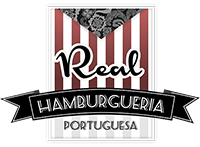 Unique burgers with traditional Portuguese gastronomy ingredients.
Welcome to our restaurant
2 burgers of beef, watercress, tomato, cheese Alavão, ham, sweet pickles, Portobello mushrooms and cream sauce Portuguese.
Watercress, tomatoes, beef burger, candied onions, Island cheese, bacon, pickles and house sauce.
We had one more appointment, now by the blog Oportoblog, whi...

To say their portions are huge would be an understatement. Y...
"(…) Tall and perfectly layered, it has a great combination of ingredients and a delicious sauce."
"This Real Hamburgueria (…) is one of the best examples of what you can do with a slice of minced meat."